THE SIMPLE DRINKWARE CLEANING SOLUTION
September 29, 2022
Do you get tired of having to rinse tens of glassware every day? Do you need a quicker, easier, and more kitchen-friendly method of cleaning your containers? Ever heard of a glass rinser?
How Does A Glass Rinser Work?
So what is this product? How does it work?
When it comes to the glass rinser, the concept is pretty easy. What we're talking about is a product that can be installed in any part of the kitchen sink to serve as a quick glass rinser.
The glass rinser's major component is its water jets that play a key role in the cleaning process. As we said earlier, the concept is simple. What the glass rinser does is to simply utilize water pressure in cleaning your containers as quickly as possible.
Think of it as a water dispenser that shoots out water at speeds fast enough to clean out whatever grease, liquid, smoothie residue, or baby food residue is left in any container with a small enough opening.
So, the next time you come back from a run and you want to rinse out your refuel bottle, simply turn the container upside down, place it over the glass rinser, and watch as the water from the rinser cleanses out the bottle entirely.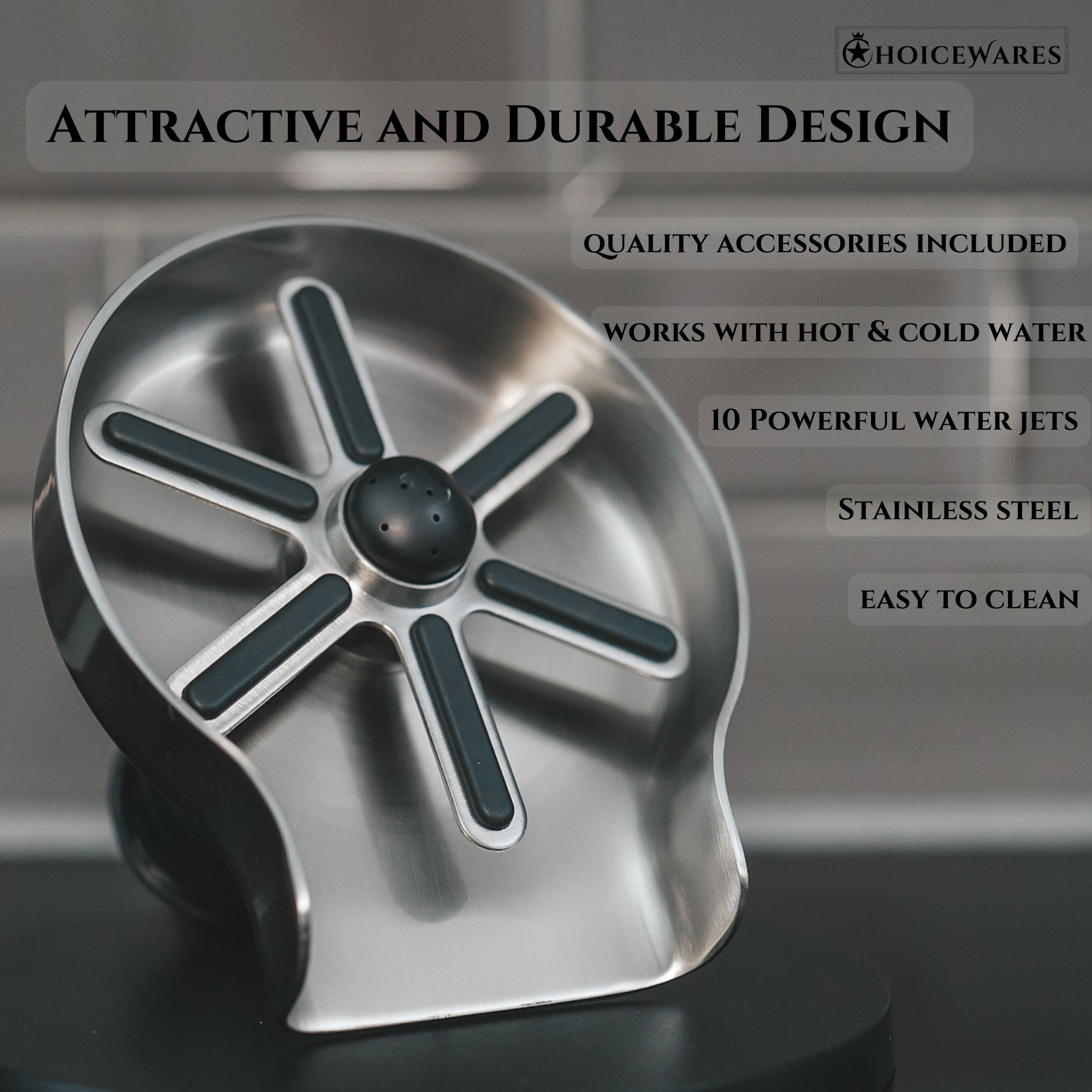 Well, of course, the glass rinser is a product that caters to the needs of every individual who wants an easier and faster way of cleaning their different containers. At the same time, there are a few sets of individuals that will be happy they discovered this product. They include:
Parents with babies who are of formula age and currently need bottle feeding.
People undergoing diets and weight loss schemes who need regular intake of protein shake
People who love to grab cups of tea or coffee every day for a boost in mood and energy
What Does This Product Help With?
Here's a list of the various goals you can achieve with this tool:
It helps you ensure that cleaning various containers is fast, easy, and convenient
It provides an excellent gift idea for that valuable friend, family member, or a new couple
·  It ensures that your kitchen is free of clutters and messes from bottles, containers, and other drinkware.
How Do You Install The Product?
After purchasing the glass rinser, you'll need to install it on your kitchen sink to begin enjoying its benefits.
All you have to do is follow this simple installation guide for a quick process. Let's get started, shall we?
Installation Steps:
Remove the soap dispenser, sink sprayer, or sink hole cover from the countertop or sink hole
Insert the glass rinser into the hole left from the previous step
Under the countertop/sink, put the plastic spacer and metal washer on the glass rinser metal shank, then screw on the mounting nut.
Turn off the hot or cold water supply under the countertop or sink and connect the T-connector and the braided tube to either of the cold or hot water supply
Connect the other end of the braided tube to the glass rinser shank
·  Turn on the water supply and your glass rinser is good to go.
What Are The Benefits Of Owning A Glass Rinser?
Quick And Easy Cleaning Of Glassware
With this product, say goodbye to days of piled-up glasses and drinkware in your kitchen sink. Glass rinsing tools come with water jets that shoot out water with enough pressure to rinse out residues from your containers in a matter of seconds.
Easy Product Installation
Who doesn't love it when processes are made simpler?
You can fit the glass rinser into any sink sprayer, soap dispenser, or sink hole cover and start using it immediately after a few minutes of installation.
Attractive And Durable Design
Any kitchen tool you use shouldn't just work great, but also look great. That's why the glass rinser comes with a stainless steel design that adds aesthetic appeal to your kitchen. The stainless steel design also prevents leaks and offers durability.
Compatibility With Different Drinkware
With a 4.26" diameter, you can fit various drinkware including water bottles, feeding bottles, exercise refuel bottles, glass cups, and coffee mugs onto the glass rinser. This makes the glass rinser a tool for all the containers you use in your household.
Serves As A Thoughtful Gift
If you're searching for a great gift for a friend or family member, then look no further than this drinkware rinser. It's a household kitchen tool that caters to the needs of so many individuals and because of its design, it'll make for a great gift item for any occasion.
Why Our Customers Will Love ChoiceWare Glass Rinser
From its great build that offers durability and prevents leakage to its compatibility with different cup sizes, the glass rinser is a keeper. Also, when you factor in the 100% cleaning it offers, it's clear that this tool is an excellent kitchen cleaning assistant.
So, the next time you're in the supermarket for a kitchen tool, don't forget to add a drinkware rinsing tool such as ChoiceWare Glass Rinser to your shopping cart.